Dan Lopes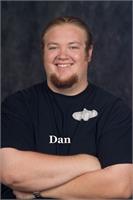 I was basically born in the gym. When my parents introduced me into lifting it was a stick and lessons on technique. As I aged weight was slowly introduced but never at the sacrifice of technique, you cannot build upwards without a solid base. This is something that has stuck with me all those years, and those same principles that have brought me both personal success in strength sports and success in teaching other athletes, especially the youth athletes that we train.
My personal success includes: breaking and currently holding the Nevada High School squat and total record for the Heavy Weight class, winning numerous amateur Strongman contests, top 5 finishes in Scottish Highland Games contests in which I still compete.
Dan Lopes instructs the following:
This introductory strength training class is perfect for seniors who want to get strong, mobile, and preserve their quality of life. By focusing on full body compound movements we will increase our mobility, while increasing strength. Strength training offers many benefits for everyone, and is especially important as we age. Join us in the fight against muscle atrophy.