Dan Lopes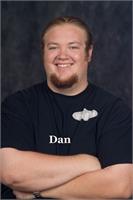 I was basically born in the gym. When my parents introduced me into lifting it was a stick and lessons on technique. As I aged weight was slowly introduced but never at the sacrifice of technique, you cannot build upwards without a solid base. This is something that has stuck with me all those years, and those same principles that have brought me both personal success in strength sports and success in teaching other athletes, especially the youth athletes that we train.
My personal success includes: breaking and currently holding the Nevada High School squat and total record for the Heavy Weight class, winning numerous amateur Strongman contests, top 5 finishes in Scottish Highland Games contests in which I still compete.
Dan Lopes instructs the following:
The goal is to bring families together and help forge a healthy, fun, and bonding experience. There is no lifting experience required for this class, whether you have never touched a weight in your life or you consider yourself an experienced gym goer we look forward to working with you and your family.
This class will focus on the fundamentals of the core "power movements" Squat, Bench, Deadlift, and Overhead press, along with learning how and why to use every piece of equipment in the gym and how to build a sustainable and safe workout program.




Whether you've just signed up for your first meet or you are an experienced "elite" level lifter, one of the major keys to powerlifting is meet prep. How to train to maximize your strength and performance when you step on the platform. American Iron Gym offers a class to help you do just that.
The focus of this class will be the main fundamentals of a meet prep phase. From "off season" work outs to how to pick your attempts day of. We critique technique where needed, plan your workouts, and discuss the psychology of a power meet. This class will have an in gym meeting time of 1:30pm to 3:00pm on Sundays starting January 8th. During this class, we will discuss and analyze weaknesses, strengths, and drills for each individual lifter to incorporate into their program. Also included will be email/texting with our coaches to critique and answer questions during the lifting week. If you participate in this class you will also receive hands on help from our Staff for the UPA Meet February 25th or the USA Powerlifting NV State Championships May 27th.




If you are looking at a way to get high level coaching and instruction at a lower cost this training is for you. You have the basics down, your a competitive athlete and need some strength coaching and training.
Your program will be individualized to you yet you will train within a group of other driven athletes.