Max Garza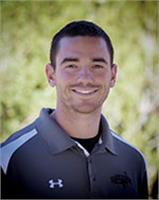 Max Garza is a Certified Strength & Conditioning Specialist with a Bachelors of Science in
Exercise Science from Dakota State University (2013). Level I USAW Certified. Max has experience working with
all ages and in a variety of environments. Max has worked as a Physical Therapy
Technician, where he was responsible for administering exercise prescriptions under
direct supervision of Physical Therapists. Max has also worked as a Physical Education
Teacher for fourth through eighth grades. Early in Max's career as a coach he interned at
South Dakota State University, and volunteered at Dakota State University. Durring that
time he was able to work directly with Division one and NAIA Strength coach's for all
major sports including, Baseball, Softball, Volleyball, Men's and Women's Basketball,
Football, Wrestling, Track & Field, Cheer, Golf, Swimming. Max's hobbies include playing
Baseball, cooking, and lifting weights.
Max Garza is currently not instructing any classes.